The Minbar of Ibn Tulun
Sale price Price $18.54 Regular price Unit price / per
Learn how to draw the famous 8 fold pattern adorning the Sultan Lajin minbar built for the Mosque of Ibn Tulun (1296). We will also sketch out and discuss the biomorphic (arabesque) carved inside the geometric shapes.
Before becoming sultan, Husam al-Din Lajin spent a year in hiding at the dilapidated Ibn Tulun Mosque. He vowed to renovate the mosque someday, and an enormous minbar was the result, dismantled in the late 19th century and dispersed in several museum collections. A copy based on a traveler's drawing now stands in the mosque.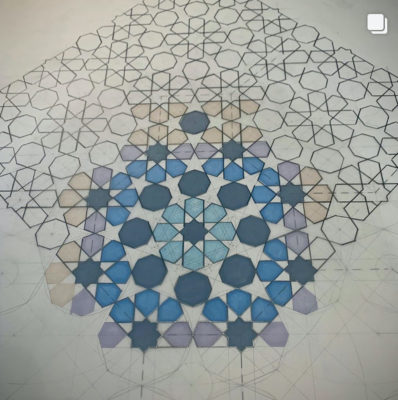 This panel with carved geometric decoration forms most of one flank of a minbar or mosque pulpit. It was presented to the 9th-century mosque of Ibn Tulun in Cairo by the Mamluk Sultan Lajin (ruled 1296-1299) as one element in an extensive restoration. In 1294, when he was a Mamluk officer, the Sultan hid from his enemies in the ruined mosque. He vowed to restore it should his circumstances improve. He kept his vow.